From Matt to You…

"A dream you dream alone is only a dream; A dream you dream together is reality." – Yoko Ono
It is my profession and my passion to connect people, arts & culture. I'm delighted to welcome you along for the journey.
In addition to my own blog, AUDIENCE WANTED, I'm pleased to share links to colleagues, practitioners and visionaries whose work inspires me. We live in profoundly challenging times, but there is tremendous strength to be gained from exchanging insights and learning from each other.
Got a suggestion of someone to feature? Please tell me: MLehrman@audienceavenue.com.
Enjoy!
Matt
Audience Wanted
As a child, one of my favorite picture books* told the story of six field mice that visit a barn. At the end of the day, they are completely unable to reconcile what they have observed (a cow) bec... MORE »
Jumper
Recently, Nina Simon has written a smart post taking aim at the "Need versus Want" distinction often used to describe the role of (nonprofit) arts organizations—as in, "Our job is not to give peopl... MORE »
Sold Out Run
Thanks in large part to the Internet there's more information about theatre marketing out there then you could ever hope to incorporate into you own promotions. So how do you navigate that ocean of...
MORE »
Patron Technology
Sandow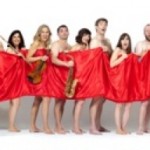 From Greg: Victoria will explain how she and I happened to meet, and strike sparks from each other. What excited me was the large audience she gets for the American Modern Ensemble, the new music ... MORE »
Meaning Matters
Some of the best run arts organizations in North America are those operated by volunteer leadership. I had the pleasure of meeting leaders from several at the Alberta Showcase for arts presenting ...
MORE »
TRG Arts
Photo via flickr Our live chat last week with the Foundation Center (see transcript) raised an alarming question: In this time of year when patrons are thinking about us, are we thinking about our ... MORE »
Diacritical
# The two terms sometimes get mixed up. They're not interchangeable. For the most part, the big cultural debates of our time take place without participation of our artists and arts leaders. If art... MORE »
The Producer's Perspective
What's that you hear? Is it the sound of my old school favorite snack, Jiffy Pop Popcorn?
Unfortunately not.
It's the sound of the newest fad in retail . . . the pop-up st...
MORE »